Mid-Century Workshop
Back in the day if you owned a home, you were a handyman. The modern handyman had a "can do" attitude and would think of a total home remodel as a series of do-it-yourself projects and would not even consider calling in a professional contractor.
Now and in the month's to come, I will do my darndest (excuse my French, ladies) to offer snappy, interesting and pertinent articles designed to be helpful to the modern handyman (and handywoman). You CAN do it yourself. All you need is a little confidence, a little know-how and the desire to give it a go. Check out a few of the upcoming topics in the hopper:
• basic furniture fix-ups & refinishing
• easy home weatherproofing tips
• design (and maybe even build) your very own built-in cabinets
• floor installation & maintenance
• light fixture re-wiring & installation
• basic home maintenance
…if you have a project you're struggling with now or is in your immediate future, send an email to [email protected] and I'll certainly consider it for use as a topic for an upcoming MCH (Mid-Century Handyman).
Now where will all the great information be coming from? Well, from experts of course. I'll be accessing the far-reaching Mid-Century Modern League library to bring you the latest in modern handyman procedures, tips and skill development techniques. How-to books from Sunset, Better Homes and Gardens, Mechanix Illustrated, Popular Mechanics and others are sure to be entertaining, informative and have uber-cool pictures for your edification.
But first things first… you need a place to work and tools to work with. There is a dizzying array of tools available at your local thrift shop, Sears and big-box home store. Some are must-haves, others are nice-to-haves and still others fall into the "what-the-frig?" category. If you have an empty toolbox and are wondering what to acquire first, the Better Homes and Gardens Handyman Book suggests the aspiring handyman obtain tools in these three phases.
(Remember, these are suggestions. Modern alternatives are often safer… use common sense.)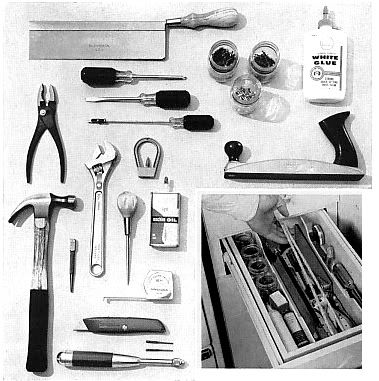 Your first step is getting these tools: dovetail saw, pliers, screwdrivers (Phillips and regular), assortment of nails and screws, all purpose glue (I recommend waterproof wood glue
–Dutch
), multibladed forming plane, 10-oz. Hammer, nail set, adjustable wrench, stud finder, scratch awl, machine oil, steel tape measure, shop knife, push drill and bits. Divided tote box (inset) keeps tools handy (as will any decent sized tool box
–Dutch
).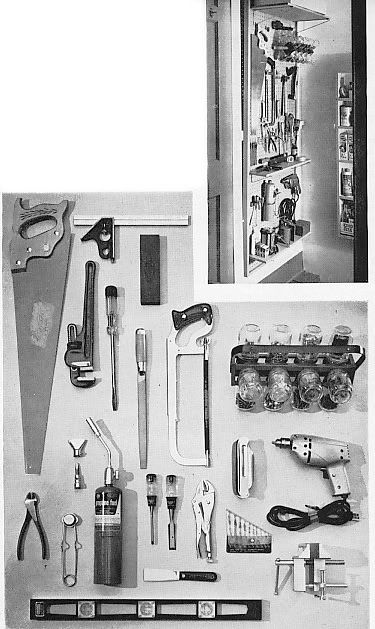 Next, get these tools: Eight-point crosscut saw, combination square, sharpening stone, pipe wrench, large screwdriver, 10-inch file, hacksaw, revolving-jar storage rack, diagonal wire cutters, propane torch with soldering tip and flame spreading tip, 1/4- and 3/4-inch wood chisels, putty knife, locking pliers, sanding block, 1/4-inch electric drill (cordless is convenient –Dutch) with wood and metal cutting bits, portable woodworker's vise, 24-inch level. A sheet of perforated hardboard stores tools at top of basement stairs or on a closet door.
Third-step tools: Paintbrushes, bulk supplies of paint and sealers, 16-oz. hammer, C-clamps, saber saw, wiping cloth, steel wool, orbital sander, channel pliers, heavy-duty stapler and staples. Your tool board now keeps your tools above the workbench.
Don't think you have to raid the kids' college funds to buy everything on this list in one trip to Sears… I've never used a revolving-jar storage rack in all my living life. Just buy supplies and tools as your current project demands.
Now, where to set up shop? There are three basic needs for any shop: space, light and a good workbench. Pick a place for your shop where it will have room to grow. A common fault in home workshops is lack of open floor space for larger projects.
Spend a little money and provide plenty of light for your shop. This is very important! If you can't see your work well enough, you'll get tired sooner and you'll start making costly mistakes, just ask my buddy "Lefty" McGee. Fluorescent fixtures are a good bet for overall lighting. The size and design of your workbench depends largely on the space you have. The bench should be high enough so that you don't have to stoop at to work on it. The height of your hipbone –about 40 to 42 inches for most men– is about right.
Be resourceful with your workshop materials. Use those icky 1980 particleboard cabinets you tore out of the kitchen. Make a workbench out of a damaged solid wood door you have to replace anyway. Use your imagination. I'll keep an eye out for pictures of workshops that just might spark a great idea and post 'em for you kids. Just keep in mind, whatever design you decide on, make it your own and use it, for you are the Modern Handyman! Enjoy and be safe. Dutch